Tom Roche Lifetime Achievement Award
The Tom Roche Lifetime Achievement Award recognizes an individual for their long-term commitment to the consulting engineering profession and to the community. Tom Roche was instrumental in establishing ACEC/MN. Not only was he a primary force behind the formation of ACEC, he was also instrumental in establishing chapters in other states. His passion for engineering was unparalleled, and his passion for ACEC was a close second, which is why we continue to bestow this career achievement award in his name.
Eric Heiberg of Heley Duncan & Melander was honored with this year's Tom Roche Lifetime Achievement Award . This award is presented to an individual who has contributed a great deal during their career to the engineering profession, ACEC/MN, and the greater community.
Eric has been a regular fixture at ACEC Minnesota committee meetings since 1995, has represented countless engineers and their consulting firms as an advisor, contract negotiator and litigator. He has formed numerous engineering firms, negotiated hundreds of contracts on behalf of his clients and has successfully mediated, arbitrated and litigated lawsuits in the areas of construction disputes, design professional liability, employment law, mechanic's liens, and collections.  He has acted as a counselor to his clients during the negotiation, contracting, bidding and construction process.
Eric has been a distinguished presenter for ACEC/MN many topics including design professional liability, construction process and documentation, licensing, and ethics. He has taught the legal issues topic at the annual ACEC/ MN Emerging Leaders Training Series since 1998.
He has also drafted and testified on behalf of legislation to update Statute of Limitations and Statute of Repose laws, and is previously a winner of the ACEC/MN President's award for his work on amendments to statute of repose law and the passage of the Minnesota indemnity statute.
Thank you and congratulations to Eric Heiberg!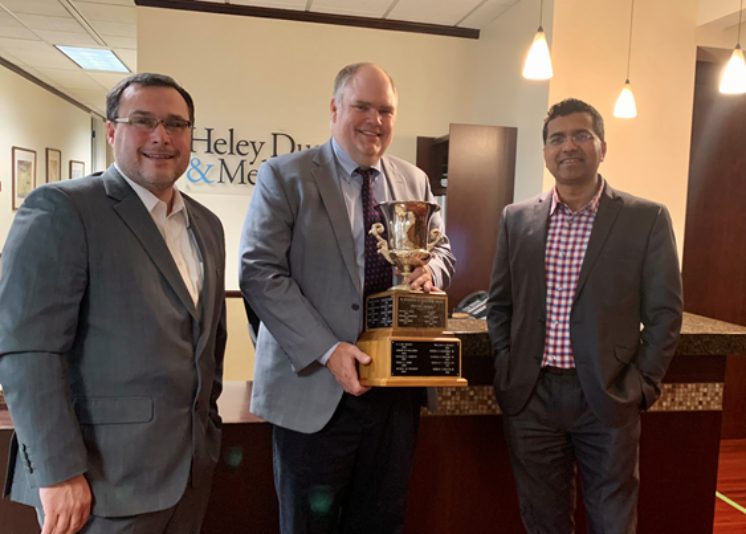 Tom Roche Lifetime Achievement Award Winners
1975   Wally Bruch
1976   Doug Wolfangle
1977   Gordon Moore
1978   Jack Braun
1979   Bob Rosene
1980   Dave Conkey
1981   Bob Michaud
1982   Skip McCombs
1983   Max Oftedal
1984   Bill Schoell
1985   Jack Nagel
1986 Bob McFarlin
1987   Glenn Gausman
1988   Chuck Britzius
1989   Earl Oxley
1990   Leif Ericksen
1991   Jim Tillitt
1992   Chuck Barger
1993   Jim Orr
1994   Duane Prew
1995   Dag Knudsen
1996   Chuck Ballou
1997 Cam Kruse
1998   Bill Sayre
1999   Harvey Harvala
2000   Jim Keller
2001   Wally Ouse
2002   Ken Adolf
2003   Dwight Benoy
2004   Shirley Walker Stinson
2005   Lane Hersey
2006   Joe Hallberg
2007   Dick Sobiech
2008 Terry Swor
2009 Jeff Coleman
2010   Bill Bennett
2011   George Kluempke
2012   Randy Geerdes
2013   Douglas Cooley
2014   Robert Struve
2015   John Smith
2016   Glenn Schreiner
2017   Randy Morris
2018   Gene Sieve
2019  John Dillingham
2020 Eric Heiberg