This award is presented to the ACEC member firm that, through their activities, has made a significant contribution to the advancement of the association and the consulting engineering profession.
The 2020 Firm of the Year Award was presented to Kimley-Horn. Kimley-Horn has a long history of giving back to the association – its employees attend numerous events and serve on committees and the board of directors. Their leadership on PAC fundraising helped ACEC Minnesota reach our goal with ACEC National and also build up funds in the state PAC coffers. Members of their staff currently serve on the Engineering Excellence Awards Committee, Transportation Committee, and in Minnesota Structural Engineers Association (MNSEA). Additionally, Kimley-Horn sponsored and participated in the annual ACEC/MN Scholarship Golf Tournament.
Thank you and congratulations to Kimley-Horn!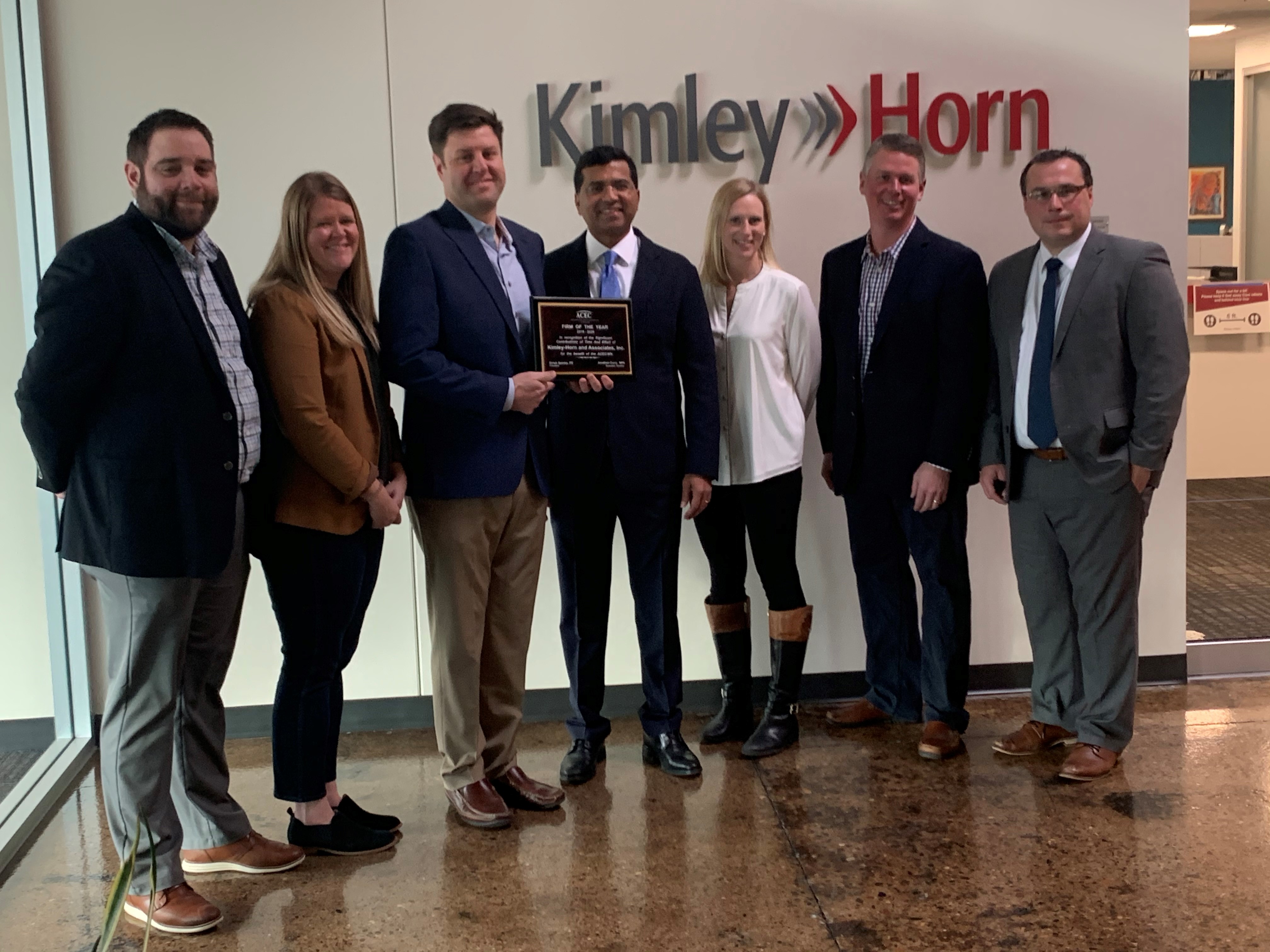 Firm of the Year Recipients
1991   American Engineering Testing, Inc.
1991   Short Elliott Hendrickson, Inc.
1992   Mattson/Macdonald, Inc.
1992   Braun Intertec
1993   BKBM Engineers
1993   Wells Engineers Minnesota, Inc.
1994   Darg, Bolgrean, Menk, Inc.
1994   Gausman & Moore Associates, Inc.
1995   Barr Engineering Co.
1996   Bonestroo, Rosene, Anderlik & Associates, Inc.
1997   Dunham Associates, Inc.
1998   Bolton & Menk, Inc.
1999   Schoell & Madson, Inc.
2000   INSPEC, INC.
2001   LHB Engineers & Architects, Inc.
2002   Michaud Cooley Erickson
2003 TKDA
2004   HDR Engineering, Inc.
2005   Edwards and Kelcey, Inc.
2006   American Engineering Testing, Inc.
2007   SRF Consulting Group
2008   WSB & Associates, Inc.
2009   Braun Intertec
2010   Hiway Federal Credit Union
2011   TKDA
2012   Parsons Brinckerhoff
2013   Rani Engineering
2014   SRF Consulting Group, Inc.
2015   HGA Architects and Engineers
2016   Alliant Engineering, Inc.
2017   Burns & McDonnell Engineers-Consultants
2018   BKBM Engineers
2019   Barr Engineering Co.
2020 Kimley-Horn