The ACEC/MN President's Award is presented by the Board of Directors to an individual employed by an ACEC member firm who has made a significant contribution to the association and has been a valuable asset to the consulting engineering profession over the past year. This could include regular or ad hoc committee activity; attendance at the awards banquet, monthly meetings and seminars; promoting ACEC/MN to the public and/or acting in the interests of ACEC/MN; or other activities. Current members of the ACEC/MN Board of Directors are not eligible for this award.
This year's President's Award was presented to three recipients to recognize their efforts on behalf of the ACEC/MN Campaign Fund and ACEC National PAC:
Bob Moore of SRF Consulting Group
Chris Leverett of Kimley-Horn
Gene Sieve of Burns & McDonnell
Bob, Chris and Gene have led campaigns to raise awareness and funds for both the state Campaign Fund and the National PAC – leading Minnesota to achieve our goal with ACEC National for PAC contributions for the first time in 2020, and continuing to reach the goal for 2021 and 2022. All three were also instrumental in the transition to the ACEC/MN Campaign Fund from a PAC, which simplified administration and enabled better collaboration with the National PAC. Fundraising for the ACEC/MN Campaign Fund and the number of contributors continue to grow each year with their efforts, bringing more members into ACEC/MN advocacy efforts and growing the pool of resources to support the needs of the engineering industry in St. Paul.
Thank you and congratulations!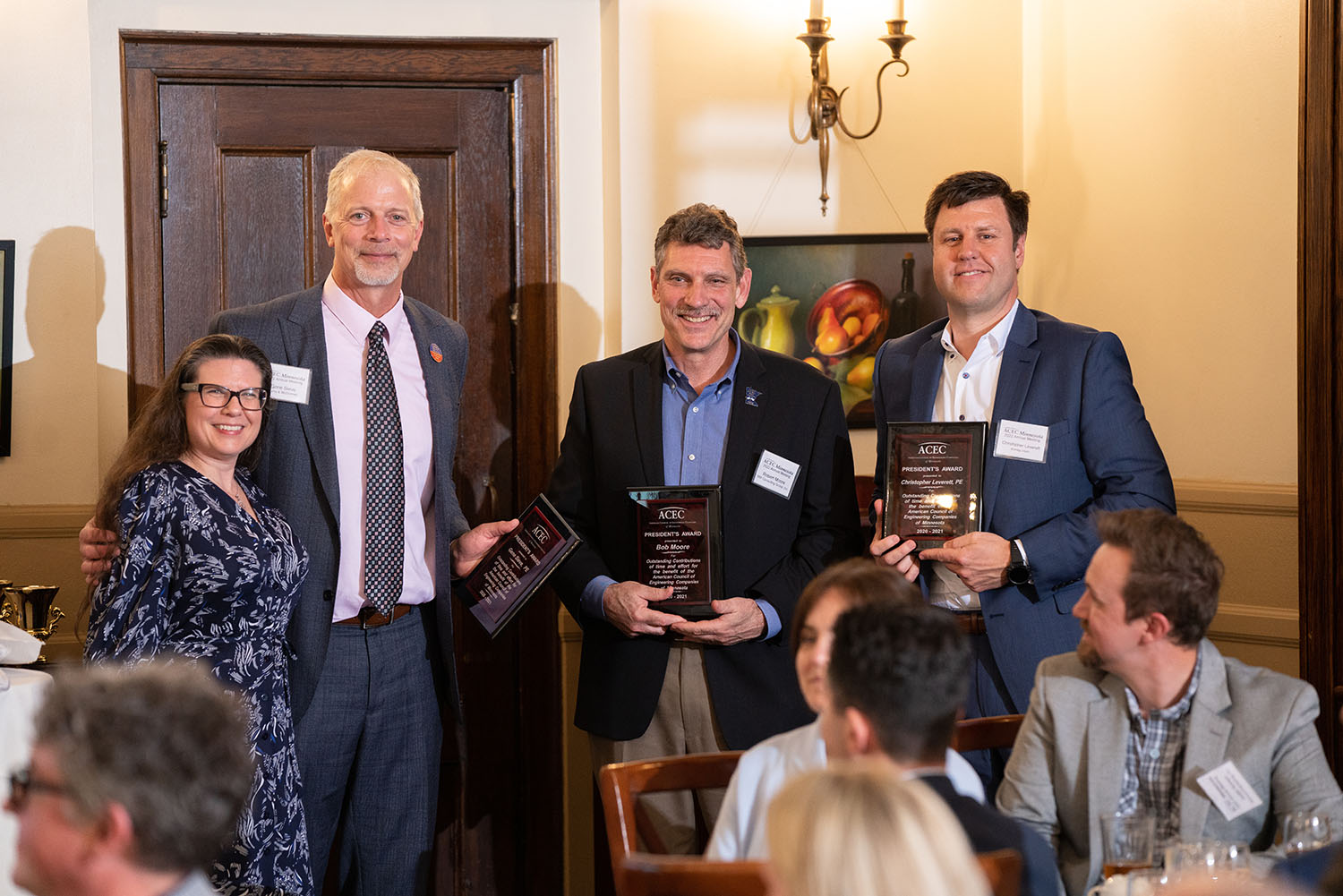 Jack Corkle presenting Bob Moore, Chris Leverett and Gene Sieve with the 2021 President's Award.
President's Award Recipients
1991   Bob Rosene – Bonestroo, Rosene, Anderlik  & Associates
1991   Dag Knudsen – Dag I. Knudsen & Associates
1992   John Berner – Berner Engineering Testing
1993   Jim Keller – Gausman & Moore
1994   Bob DeGroot – STS Consultants
1995   Stephanie (Cross) Young – Mattson/Macdonald
1996   Lisa (Lee) Breuer – Barr Engineering
1997   Doug Wolfangle
1998   Dwight Benoy – INSPEC
1999   Ken Adolf – Schoell & Madson
2000   Wally Ouse – Cain Ouse Associates
2001   Doug Differt – URS Corporation
2002   Doug Cooley – Michaud Cooley Erickson
2003   Cameron Kruse – Braun Intertec
2004   Richard Sobiech – TKDA
2005   Terry Swor – American Engineering Testing
2006   Doug Weiszhaar – WSB & Associates, Inc.
2007   Matt Ruble – Braun Intertec Corporation
2008   Lyndsey Alm - Environmental Resources Management
2009   Douglas Tholo - Howard R. Green Company
2010   Ted Field, TKDA
2011   Randy Geerdes, SRF Consulting
2012   Bret Farmer, TKDA
2013   Patrick Hughes, Parsons Brinckerhoff
2014   Mark Bloomquist, Holly Newman, and Eric Heiberg
2015   Gene Sieve, Burns & McDonnell Engineers-Consultants
2016   Jody Elam-Foote, Northern Technologies, LLC
2017   Greg McCool, Ericksen Roed & Associates, Inc.
2018   Kim Deibel, American Engineering Testing, Inc.
2019   Jon Wacker, HGA
2020   Bret Weiss, WSB