If you're an Engineering Student in Minnesota, you should apply for the ACEC/MN Scholarship Program.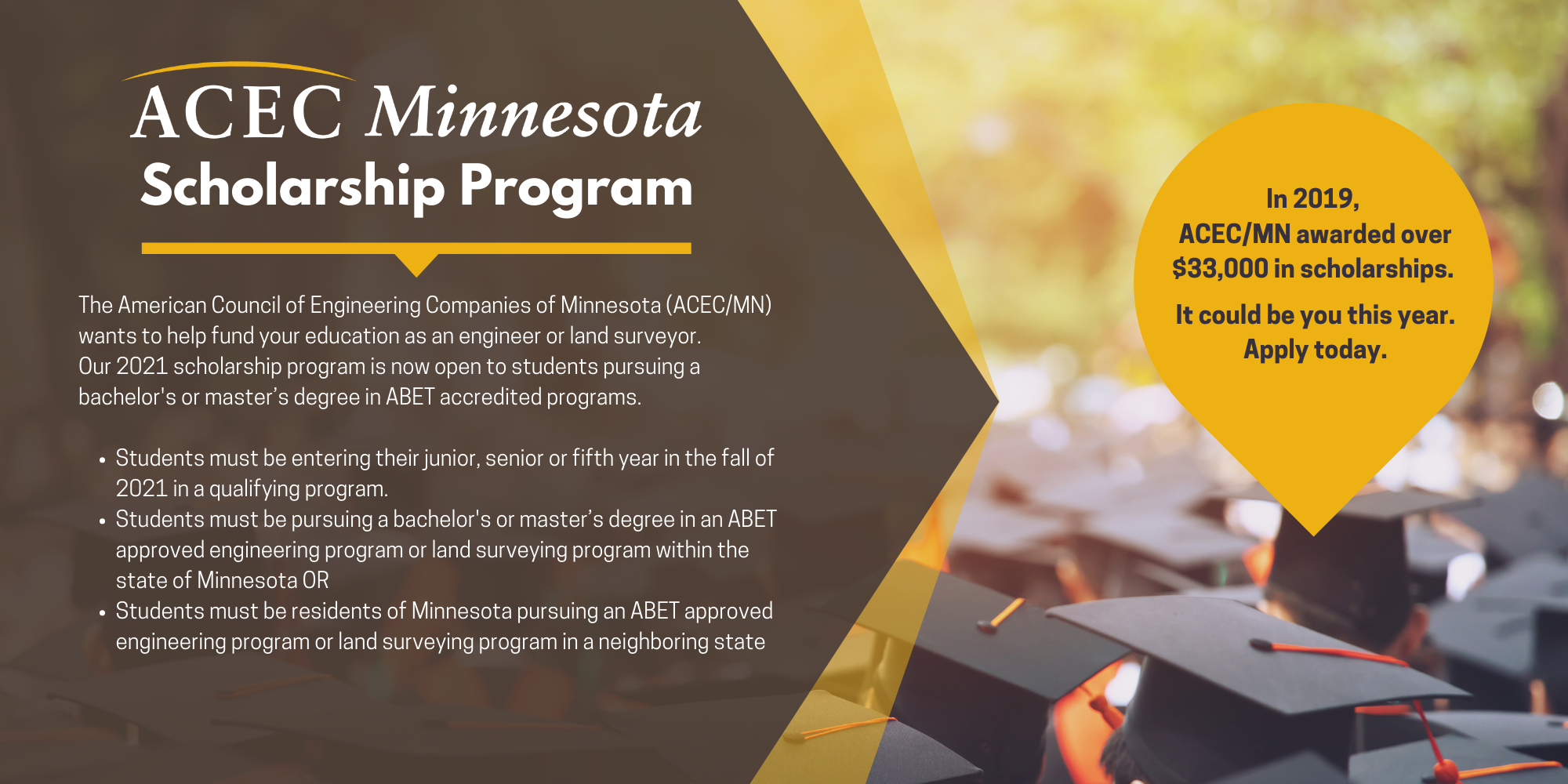 Here's what you need to know:
Our scholarships will be awarded in early 2021 with funds going to the 2021-2022 academic year.
Recommendation Form due: November 24, 2020.
Application due: December 1, 2020.
Details on application process, requirements & guidelines are found in the application below. See the button on the left for more detail on how applications are scored.
Please include your name in the file name when you save the application form.
When you finish your application and recommendation form:
If you encounter any difficulties uploading, please contact John Krapek at john@acecmn.org.
Highlights from Last Year:
ACEC/MN awarded 14 students with $33,500 last year. Thank you to the firms who support our sports tournaments and contribute to the scholarship program. Congratulations to the following recipients!
2020-21 ACEC/MN scholarship recipients:
University of Minnesota, Twin Cities
Kimley-Horn Scholarship – Kyle Kucharski, Civil Engineering, Master's
Alliant Engineering Scholarship – Kristina Brierley, Civil Engineering
Bob Rosene Scholarship – Derek Huston, Civil Engineering, Master's
Don Stormoe Scholarship – David Ray, Civil Engineering, Master's
Cameron Kruse Scholarship– Ali Stone, Geoengineering, Master's
Terry Swor Scholarship – Kurt Krautman, Environmental Engineering
Melissa Langowski Scholarship – Sheridan Henderson, Civil Engineering
Juan Lopez, Civil Engineering
Liam Mullen, Civil Engineering
Kyle Rachel, Civil Engineering, Master's
William Zunker, Civil Engineering
Minnesota State University, Mankato
Oxley Scholarship – Mary Kloos, Civil Engineering
University of Minnesota, Duluth
Josh Comstock, Civil Engineering
University of St. Thomas
Emma Reinart, Civil Engineering
If your firm has an internship program and is looking for candidates, ACEC/MN would be happy to send you the resumes of scholarship applicants and winners. Contact John Krapek at john@acecmn.org for more information.

Endowment Program
ACEC/MN and affiliate member Hiway Federal Credit Union (Hiway) created a joint endowment strategy designed to sustain funding for the ACEC/MN scholarship program. Hiway launched the endowment effort with an initial contribution of $5,000, with ACEC/MN matching the amount. But that's just the beginning of a campaign that has has generated over $73,000 to date.
The development of this fund meets two important scholarship committee goals; creating a self-sustaining source for scholarship funds that makes participation in that funding source easily accessible to all member firms and their employees.
Hiway's endowment donations will be triggered by credit union financial transactions, such as loans or deposits, by ACEC/MN member firms or their employees. The larger the value of the ACEC/MN member loans and deposits with Hiway, the greater the annual endowment contribution.
"Hiway is honored and excited to partner with ACEC/MN in such a meaningful endeavor, with lasting impact," recognizes Hiway President David Boden. "Serving the engineering community in Minnesota has been at Hiway's very core for over 80 years and the development of an endowment fund is a very exciting way for us to continue to support and serve this industry."
The endowment fund provides a new way for ACEC/MN members to play an active and meaningful role in supporting and sustaining our scholarship program. To learn how you can help support the ACEC/MN Scholarship Endowment by becoming Hiway member call Mark Hodowanic at 651.259.6456 or email mhodowanic@hiway.org.