A History of ACEC/MN, 1949 to Present
Formation and Early History
In early 1949 a small group of electrical consulting engineers met to discuss their frustrations with architects taking a percentage of their fees for management of projects and free services being provided by government and private sector firms in direct competition with consulting engineers. Legend has it that each of them laid down a dollar and pledged to form an association to address these and other problems facing the profession. With that, the then named Minnesota Association of Consulting Engineers (MACE) was born.
ACEC/MN's history files reveal that the organization's first spark of life really came in the late 1940s, when three Minnesota engineers - Tom Roche, Borgé Nielsen, and Jim Lang attended an engineering equipment show together. One of them dropped a remark about a scary trend: Private companies were invading the consulting engineer's turf. They were offering engineering services. For free. For Minnesota engineers, the trio figured, that meant join together or die.
There was the issue of steel companies and other outfits handing out engineering services as freebies. State governments were offering engineering services, invading the consulting engineer's turf. Architects paid late. And they signed drawings prepared by other parties - sometimes parties who weren't licensed to practice engineering and for fees that were unrealistically low.
More forces were needed. Roche sat down at his typewriter, bit into his cigar, and knocked out an invitation for like-minded consulting engineers to join the new group for its March 1949 meeting at Esslingers Restaurant in St. Paul. The turnout of 27 concerned engineers was a good one for the time. Probably more important, the group attracted mechanical and structural engineers, expanding the organization's charter.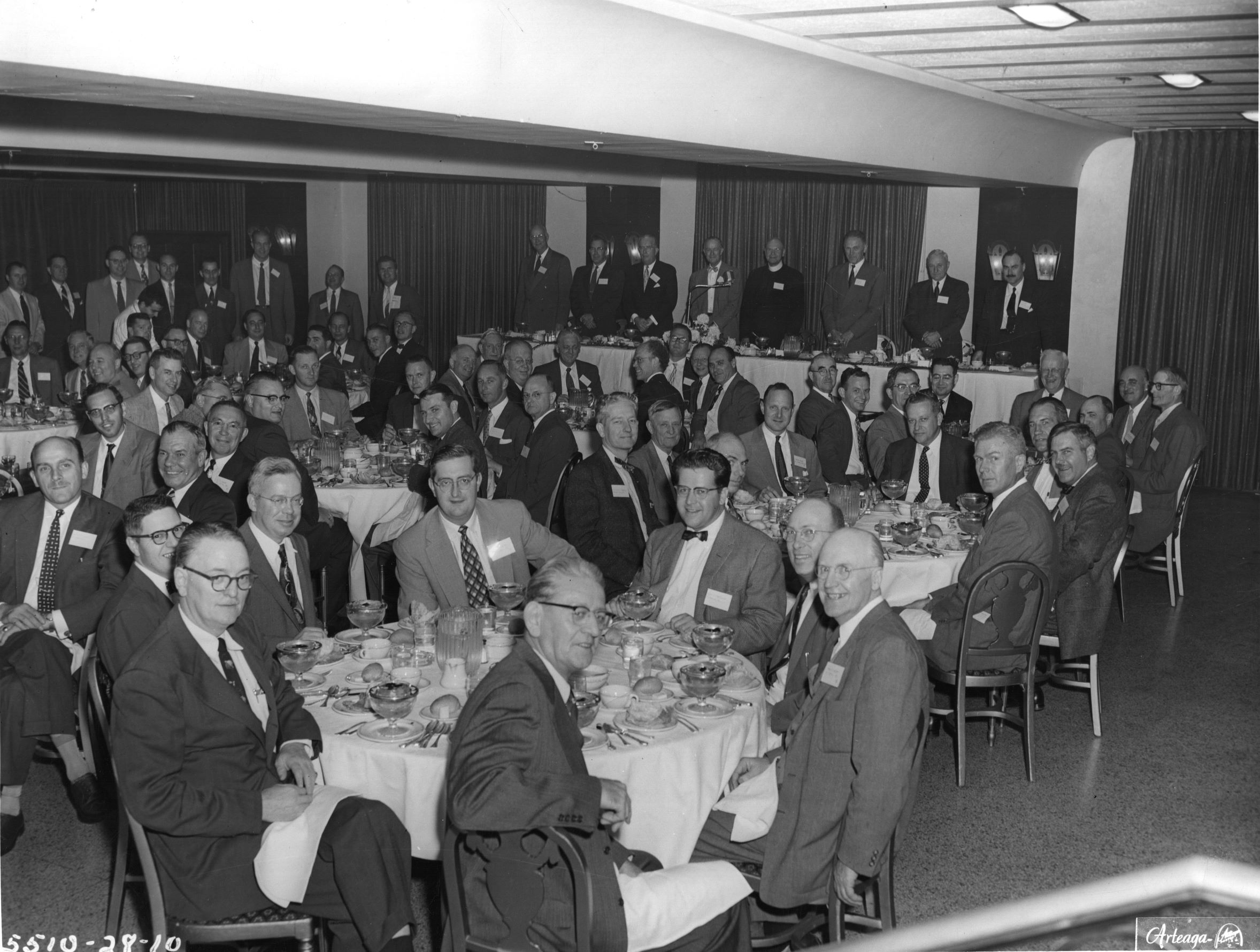 In February 1950, they signed a constitution, elected officers, and prepared bylaws. Now the group had its mission: "To promote a better understanding between consulting engineers in the state and with other organizations in the engineering, architectural fields, and with contractors, whereby the general welfare of the public and the engineers can best be served."
The members of the young association appointed committee chairmen and adopted a constitution. They elected their first president, Carl Gausman.
Evolution and first Full-Time Executive Director and Staff
Deer and ducks seemed to be MACE mascots. Now it was the sixties. Mounted birds and prints of ducks decorated the office of the organization's executive director. Some people, remembers one member, would walk into the office and think they'd stumbled into an office of Ducks Unlimited.
It was the Earl Oxley era.
Hunting-buff Oxley was now MACE's Executive Director. He took the chair after the organization's first executive director, Robert Hendershott, had passed away. He came to that seat by what some engineers might have thought was a peculiar route.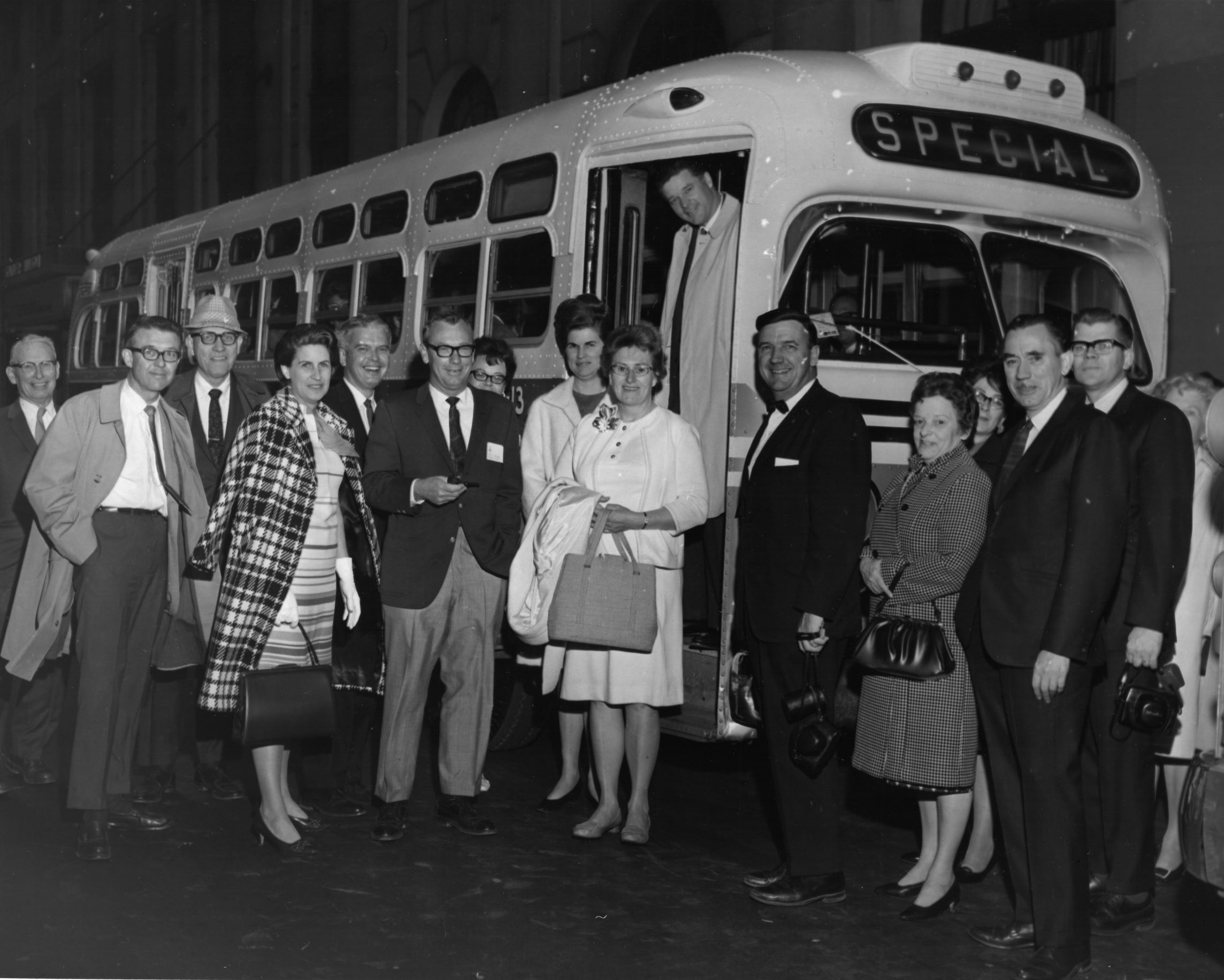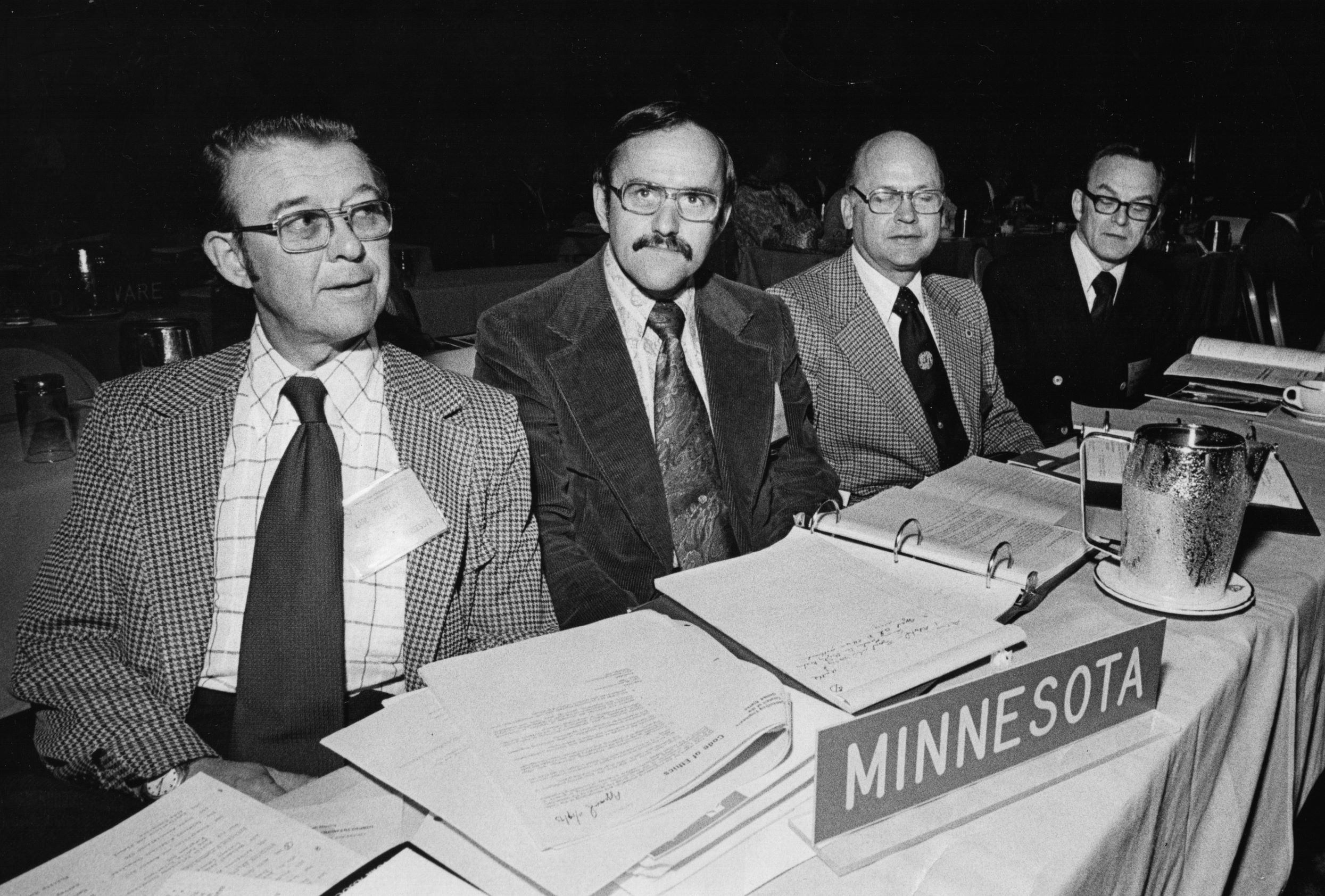 Oxley had been a life insurance salesman for 20 years, selling policies door-to-door. Then he discovered the association business and for a short time ran a hair-dressers' organization. The leap from that job to MACE wasn't as long you'd think. Running associations required strong communications skills. Oxley had honed his during his sales career.
"Six people interviewed me for the executive director job," Oxley would later recall. "Then they hired me and put me on a plane to New York, and my first [ACEC] convention. They told me to be a good listener."
He was. Soon he was walking up to his staffers and to his national officers, or to individual engineers, tucking his fingers behind his belt, and, in his low-key fashion, quietly talking business, policy and legislation. Especially legislation. Even though he hadn't expected dealings with legislators "They never told me I'd have to be a lobbyist, either!" He became particularly adept at tracking laws, digesting the meanings and implications and spitting it back out in the form of questions, suggestions or policy to associates and lawmakers. He had great rapport with lawmakers.
"I spent an awful lot of evenings at the state legislature and did a lot of testifying before the House and Senate," he would recall. "And I joined in a lot of the parties legislators threw to celebrate passing bills."
Oxley was instrumental in encouraging laws in the state and nationwide that helped consulting engineers, and in shooting down laws that hurt them. But, when it came to lobbying, he knew enough not to be the only hired gun. He'd proven he could lobby in-house: early on, he'd convinced the board to promote him from part-time to full-time so he could do justice to what was a huge job.
For the association to continue to grow, Oxley knew it would need more support - he lobbied the association for an assistant and got the approval to hire a lobbyist/lawyer to help him in the halls of government. Lobbyist Doug Franzen came aboard part-time to keep the association informed about legislation that was brewing and to maintain a dialogue with the lawmakers.
In 1967, the Oscars of the engineering business was established - the Engineering Excellence Awards Program in which engineers got together to honor the best work of the consulting engineering community. Winners on the state level went on to compete in ACEC'S national awards competition.
Doug Wolfangle, who served as CEC/M president from 1972-73 and served a term on the national level as vice president played a role in creating the national awards program.
"I was on the national PR committee," he recalled, "and we were meeting in Denver, when the national association's president walked in. He said, 'I don't care what you guys do here, but you're not leaving without having an awards program in place.' We went back to our states and thought about it."
The idea didn't sit well with everyone. It ran against the engineer's grain and against accepted ethical tenets.
"People thought it was crazy. Engineers didn't like to blow their own horns. And the idea was that everyone would receive an award or at least an honorable mention. Firms could put their award on the wall in the office. That was boasting!"
Engineers even agonized over boldface listings of their firms' names in the phone book. But in time, it sunk in deeper and deeper that awards would be good business. Participating would give firms the opportunity to highlight their skills, spread their names around and celebrate with their clients, who were recognized for sponsoring the projects. Employees who worked on the projects would share the glow, too. It was good for everybody.
Energy and environmental issues were growing factors as the seventies got into full swing. And running a consulting engineering firm was getting to be a trickier proposition.
For one thing, environmental regulations were changing the mathematics of engineering and the economics of engineering as a business. For another, the then-called energy crisis had translated into energy-saving mandates.
Both movements, while to the good, piled on red tape and laws. But they gave consulting engineers brand-new opportunities: energy-stretching HVAC systems and building design, for example, and pollution prevention and clean-up systems. Much more, too.
Like many of his associates, Bob Michaud remembered the bad old days of smoke and smog and polluted rivers.
Michaud, 1961-62 MACE president, started with Richard W. Evans in Minneapolis and became an expert of sorts in heating and air conditioning knowledge he could apply in the era of growing concern for air quality.
Michaud, by recommendation, was appointed to Minnesota's committee in charge of energy conservation, a body that mandated the end of gas lights and gas pilots in stoves and furnaces. His duties included recommending which pieces of the American Society of Heating and Refrigeration Engineers energy conservation code should be adapted by the state.